बिल्व बेल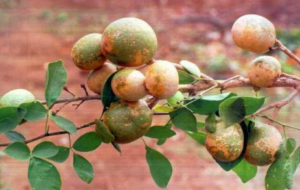 बेल का वृक्ष सारे भारत में ही प्राकृतिक रूप से जन्म लेता है | इसका कद माध्यम तथा 1 ½ मीटर तक ऊँचा होता है | इसकी शाखों पर बड़े-बड़े कांटे होते हैं | लंबे हरे पत्ते दूर से ही नजर आ जाते हैं | इस पर सफेद फुल लगते हैं ।
भारत में बेल को बहुत पवित्र माना जाता है | तभी त्र्ग्वेद में इस बेल के बारे में लिखा गया है कि –
इसे यदि श्री सूक्त के द्वारा पूजा जाए तो यह दरिद्ता को दूर कर आयु की वृद्धि करता है ।
बेल के गुण तथा लाभ
कच्चा बेल
गुण स्निगंध लघह रस: मधुर
वीर्य, उष्ण विपाक कटु
पका हुआ बेल
गुण
गुरु सिन्गंध रस: मधुर
वीर्य शीत विपाक मधुर
जब भी कोई औषधि बेल के मिलने से तैयार होती है उसके लिए कच्चा फल, पका फल तथा इसके फूलों का उपयोग करते हैं |
कच्चा फल – दीपनग्राही, खांसी, कफ, वात को नाश करता है |
पक्का फल – विदाही, विष्टिम्भी आनुलोमक व गुर्गंधयुक्त, अधोवायु उत्पन्न करता है |
पत्ते – वातनाशक शोय्धन ज्वरहन, खांसी-नाशक हैं |
जड़ – वातनाड़ी, वेद्नाशक, हृदय को शक्ति देने वाली तथा वातहर है |
बीज – चूर्ण विरोचन का कार्य करते हैं |
बेल फल – इसके फल का अधिकतर उपयोग अतिसार, संग्रहणी, प्रवाहिका, कर्ण रोग, वात रोग, मधुमय, कामलस बवासीर जैसे रोगों में होता है | इसका सेवन हर आदमी के लिए अच्छा है |
Bilwa Bell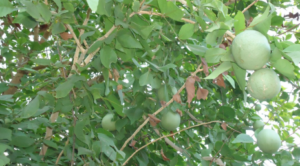 Bell's tree is born naturally in all India. Through its stature and is 1 ½ meters high. Its branches are big forks. Long green leaves are visible from a distance. It takes full white.
Bell is considered very sacred in India. Then Trgved that have been written about the Bell –
Mr hymns to worship it by removing it Dridta age increases.
Bell's properties and benefits
Raw Bell
Nature  Snigand juice     properties: mellow
Semen, torrid bitter ripeness
Ripe Bell Property
Master Singand juice: mellow
Frozen semen mellow ripeness
Whenever a drug is ready to meet the vine cast her fruit, ripe fruit and the flowers used.
Raw fruit – Dipangrahi, cough, phlegm, wind destroys.
Rareripe – Vidahi, Vishtimbi Anulomk and Gurgndyukt, causes flatulence.
Leaves – Watnashk Soydhn Jhwarhn, cough-like destroyer.
Root – Watnadhi, Vednask, giving strength to the heart and is carminative.
Seed – powder Virochan act.
Vine fruit – fruit that use mostly diarrhea, dysentery, diarrhea, ear disease, rheumatic disease, Diabetes, occurs in diseases such as hemorrhoids. Its intake is good for everyone.