Varun, वरुण Medicinal Benefits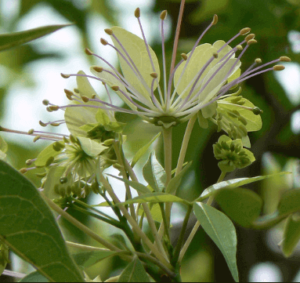 Botanical Name—Crataeva nurvala
Common Name—Baruna
Family—Capparaceae (Varun kul)
Habit—a moderate sized deciduous, much branched tree. (25-30 ft. in height)
Properties
Property—Lightness, Dryness
Taste—bitter, fragrant
 Potency—Heating
Metabolic Property—Acrid
Specific Property
Urinary Lithontriptics

Carminative

Bactericidal

Blood purifier
Parts used—Bark, leaf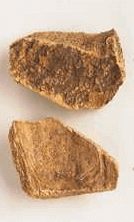 Description—It is a medium sized deciduous tree found throughout India, especially along the river banks. It has a small tree having a height of 25 to 30 feet. Bark is of light brown in colour. The trunk also bears certain crack marks on it. Branches have white marks on it. It has purple, white, yellowish colour. Fruits are very similar to that of a lemon. It turns  red on ripening. Varun flowers in spring season and fruits in summers. In summers tree loses all its leaves.
Crataeva nurvala (Capparaceae) is a high-value medicinal tree that grows almost all over India, especially in the semiarid regions. Medicinal usage has been reported in traditional systems of medicine, such as Ayurveda and Unani, wherein the plant is frequently preferred in the treatment of urinary disorders that reoccur owing to development of antibiotic resistance by the infecting organism. C. nurvala has also been used in the treatment of prostate enlargement and bladder sensitivity. The plant is known to relieve, prevent, and promote the discharge of kidney stones. Lupeol, a pentacyclic triterpene isolated from the root bark, has been shown to significantly minimize the deposition of stone-forming constituents in kidneys. Investigations have also indicated the plant has anti-arthritic, hepatoprotective, and cardio-protective actions. These multiple uses of C. nurvala along with erratic seed germination, destructive harvesting, and habitat loss from deforestation have endangered survival of the Plant. As a result of this endangerment, in India the plant has been categorized as rare or vulnerable in the natural environment, making conservation of this plant crucial. This review briefly examines the biological activities, pharmacological actions, clinical studies, and medicinal applications of C. nurvala to provide direction for further research.
Dosage
Decoction                     -50-100 ml
Powder                         -3-5 gm
Uses
In Abscess-Decoction of the root of white Punarnava and Varun should be taken to controls the unrips abscess.
In Gandamala (Cervical adenitis)-Decoction of varun root taken with honey destroys gandamala even if chronic.
In Calculus, Dysuria, Renal colic, and U. T. I.-one should take decoction of varun (root-bark) with honey.
In loss of appetite, colics, liver disorders-Hot infusion of varun leaves should be taken.

In Kikkisa (Stria gravidarum)-At first the spot is rubbed with dried Cow-dung and then anointed with the paste of Varun leaves.