Kalmegh(Bhunimba)/ कालमेघ  Medicinal Benefits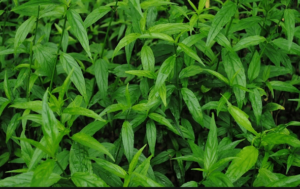 Botanical Name-Andrographis paniculata
Common Name-Kalmegh
Family-Acanthaceae (Vasa Kul)
Habit-An erect, branched annual herb, 1-3ft. in height.
Properties
Property-Lightness, dryness
Taste-Bitter
Potency-Heating
Metabolic Property-Acrid
Specific Property
Kaph-pitthar

Digestive & Stomachic

Sudorific

Anthelmintic

Cholagogue
Parts Used-Whole plant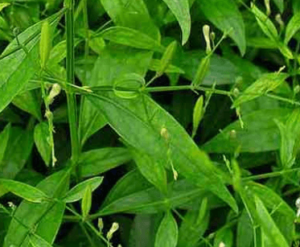 Description-Andrographis paniculata is a herbaceous plant in the family Acanthaceae, native to India and Sri. Lanka.
It is widely cultivated in southern Asia, where it is used to treat infections and some diseases, often being used before antibiotics were created. Mostly the leaves and roots were used for medicinal purposes
Andrographis paniculata, the Kalmegh of Ayurveda is an erect annual herb extremely bitter in taste in each and every part of the plant body The plant is known in north-eastern India as ` . Maha-tita', literally 'king of bitters' and known by various vernacular names. It is also known as `Bhui-neem', since the plant, though much smaller in size, shows similar appearance and has bitter taste as that of Neem (Azadirachta indica). In Malaysia, it is known as liempedu B-urni' literally means 'bile of earth' since it is one of the most bitter plants that are used in traditional medicine. In Tamil it is called as `Sirunangai' or `Siriyanangai'. The genus Andrographis consists of 28 species of small annual shrubs essentially distributed in tropical Asia. Only a few species are medicinal, of which A. paniculata is the most popular.
It grows erect to a height of 30-110 cm in moist shady places with glabrous leaves and white flowers with rose-purple spots on the petals. Stem dark green, 0.3-1.0 m in height, 2-6 rnm in diameter, quadrangular with longitudinal furrows and wings on the angles of the younger parts, slightly enlarged at the nodes; leaves glabrous, up to 8.0 cm long and 2.5 cm broad, lanceolate, pinnate; flowers small, in lax spreading axillary and terminal racemes or panicles; capsules linear-oblong, acute at both ends, 1.9 cm x 0.3 cm: seeds numerous, sub quadrate, yellowish brown.
paniculata is distributed in tropical Asian countries often in isolated patches. It can be found in a variety of habitats i.e. plains, hill slopes, waste lands, farms, dry or wet lands, sea shore and even road sides. Native populations of A. paniculata are spread throughout south India and Sri Lanka which perhaps represent the center of origin and diversity of the species. The herb is also available in northern stations of India, Java, Malaysia, Indonesia, West Indies and elsewhere in Americas where it is probably introduced. The species is also available in Hong Kong, Penang, Malacca, Pangkor Island (south of Penang), Malaya, Thailand, West Java, Borneo, Celebes, Brunei, West Indies, Jamaica, Barbados, Bahamas, Singapore etc. However, precise data are lacking on the introduction and naturalization of the species in these countries. This plant is currently cultivated in the south-west geopolitical zone of Nigeria, west Africa.
Unlike other species of the genus, A. paniculata is of common occurrence in most of the places in India, including the plains and hilly areas up to 500 in, which accounts for its wide use. Since time immemorial, village and ethnic communities in India have been using this herb for treating a variety of ailments.
Since ancient times, A. paniculata is used in traditional Siddha and Ayurvedic systems of medicine as well as in tribal medicine in India and some other countries for multiple clinical applications. The therapeutic value of Kalmegh is due to its mechanism of action which is perhaps by enzyme induction. The plant extract exhibits antityphoid and antifungal activities. Kalmegh is also reported to possess antihepatotoxic, antibiotic, antimalarial, antihepatitic, antithrombogenic, antiinflammatory, anti-snake venom, and antipyretic properties to mention a few, besides its general use as an immunostimulant agent. A recent study conducted at Bastyr University, confirms anti-HIV activity of andrographolide.
Dosage
Power                                     -3-5 gms
Decoction                               -20-40 ml.
Expressed juice                     -5-10 ml.
Uses
Its powder is useful in Dyspepsia, Habitual constipation and Warm in infestation.

Its decoction is very effective in Hepatic disorders.

In Malaria-Powder of Kalmegh is used with powder of blackpeper.

It is a good blood purifier and reduces oedema.

It is also used in skin diseases with Khadir.