Tejpatt Medicinal Benefits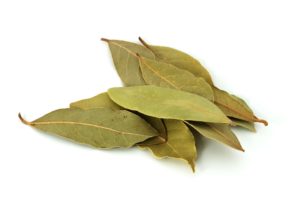 Botanical Name-Cinnamomum tamala
Common Name-Tamalpatra
Family-Lauraceae (Karpur kul)
Habit—A moderate sized evergreen tree, 25 ft. in height.
Properties-
Property—Lightness, dryness, sharpness
Taste—Acrid, bitter, sweet
Potency—Heating
Metabolic Property—Pungent
Specific Property-
Kaph-Vata-Samak, Pitta vardhak

Anti-haemorrhoidal

Anti-emetic

Appetisor
Parts Used—Leaves, oil
Description—The leaves, known as Tejapatt in Nepali, tejapatta or Tejapatt in Hindi, Tejapatt in Assamese and tamalpatra in Marathi: are used extensively in the cuisines of India; Nepal, and Bhutan, particularly in the Moghul cuisine of North India and Nepal and in Tsheringma herbal tea in Bhutan. It is called Biryani Aaku or Bagharakku in Telugu. They are often erroneously labeled as 'Indian bay leaves,' though the bay leaf is from the Bay Laurel, a tree of Mediterranean origin in a different genus, and the appearance and aroma of the two are quite different. Bay leaves are shorter and light to medium green in colour, with one large vein down the length of the leaf while Tejapatt are about twice as long and wider than laurel leaves. They are usually olive green in colour, may have some brownish spots and have three veins down the length of the leaf. True Tejapatt leaves impart a strong cassia-or cinnamon-like aroma to dishes, while the bay leaf s aroma is more reminiscent of pine and lemon. Indian grocery stores usually carry true Tejap?tt leaves. Some grocers may only offer Turkish bay leaves, in regions where true Tejapatt is unavailable.
Today, Indian bay-leaves are a spice used almost exclusively in the kitchens of Northern India, especially in the famous Moghul cuisine that was developed at the Imperial courts in Delhi and Agra. In accordance with the origins of the Moghul dynasty, Moghul cooking contains elements derived from Arabic and Persian cooking. This culinary style aims at a complexity and perfection comparable to the architectonic beauty of the Taj Mahal, which was built in the same era.
In Moghul cooking style, much use is made of sweet and aromatic spices; besides Indian bay leaves, cinnamon, cloves and cardamom are considered the most important spices for delicious rice dishes (biryani). Furthermore, Moghul cuisine is characterized by rather small chile usage (contrasting habits in the rest of India); cumin, which is a most popular spice all over India, is frequently substituted by a closely related, but culinarily different, plant known as black cumin.
Indian bay leaves are found not only in biryanis, but also in Moghul kormas, for which h today the northern Indian city of Lucknow is famous. To make korma, meat (or occasionally vegetable) is slowly but for long time braised in a rich, fragrant sauce thickened with ground almonds; often, the cooking pots are sealed to avoid any loss of aroma. Indiaiii bay-leaves also form part of the Northern Indian spice mixture garam masala, which is almost the only time when they are used in ground form.
Dosage-1-4 Masha
Uses-
Tejapatt gives strength to uterine muscles.

In skin diseases—The paste of tejpatt leaves should be applied locally.

In case of Headache—Local application of tejpatt should be done.
Oil of its leaves has wound healing property.
Powder of its leaves in useful in-Anorexia, Loss of appetite, abdominal colic & colitis.