Acne
It is skin condition having whiteheads, blackheads, pimples or oily skin. Acne may be mild, moderate or severe. Blackheads and whiteheads are classified as the mild acne while Pustules on face is considered as moderate acne. When nodules and cyst are present then it is classified as the severe acne. Acnes appear on face when sebum, which is natural oily lubricant of skin, is produced in excess and blocks the pores.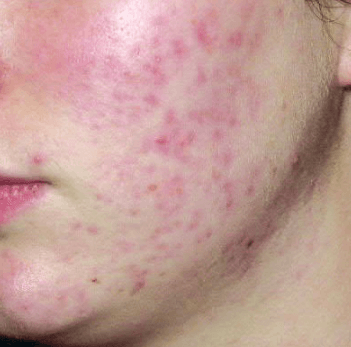 Possible Causes
Onset of puberty
Hormonal condition ( Menopause, Contraceptives)
Improper care of initial Acne
Diet
Oily skin
Ayurvedic Care
Face mask of Triphala Churn and Turmeric: Take half tablespoon of Triphala churn and half tablespoon of turmeric. Add warm water and make a thick paste. Apply it over acne and leave it for 15 minutes. Wash it gently with water. Triphala and turmeric has antibiotic properties and it removes clog from pores. It even prevents sear formation. Apply it three times a day.
If acnes are related with period then avoid spicy and salty food for 10 days before period.
Face mask of Nutmeg powder and honey: Take 1 tablespoon of nutmeg powder and 1 tablespoon of honey. Mix it properly and apply this mixture over acnes for 15-20 minutes. Wash it gently with water.
Aloe Vera based gels can be used for 5 days to heal acnes.
Wash face 4 -5 times in a day with cold water without soap. It helps to reduce excess sebum.