Important and Necessary Tools of First Aid Kit
The materials necessary for first aid are kept together in a first aid kit or some other suitable container. These kits should be kept in the Work place, in home, sports and leisure facilities and vehicles.
The contents of the kit at workplace and leisure must conform to the legal You may add things to your kit at home depending on your The kit should clearly marked and easily accessible. It should be kept in a cool and dry place. It should be checked and replenished regularly, so that all required items are always ready to use.
Contents of a first aid kit are shown in the following table.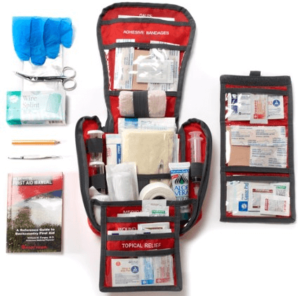 First Aid Kit
 For assessment
Flashlight                                                                     1
Thermometer                                                                1
Tongue spatula                                                            1
Blood pressure instrument                                          1
Gloves, rubber                                                             1
Writing pad and pen                                                    1
For Treatment
Bandage, triangular                                                     2
Bandages, assorted sizes                                             6
Gauze pads, sterile                                                       6
Sticking plaster rolls                                                   1
Cotton wool packet                                                     1
Swab sticks                                                                  6
Eye pads                                                                       2
Safety pins                                                                   12
Eye pads                                                                       2
Light plywood splints                                                 2
Screw capped bottles, wide mouthed                        2
Urethral catheter                                                          6
Gastric lavage tube                                                      2
Intravenous drip set                                                     2
Hypodermic syringe, 2 ml                                          1
Hypodermic syringe, 5 ml                                          1
Injection needles no. 22, 24                                       2
File for cutting ampoules                                            2
Scalpel                                                                          2
Pocket knife                                                                 1
Scissors, blunt and sharp tipped                                1 each
Artery forceps                                                              1
Toothed forceps                                                           1
Dextrose 5 % solution for intravenous use               2
Oral rehydration therapy pack                                   1
Tetanus toxoid ampoule                                             2
Adrenalin injection 1:1000 ampoule                         1
Atropine injection ampoule                                                 1
Antihistaminic tablets packet                                     2
Antispasmodic tablets packet                                     2
Paracetamol tablets packet                                          1
Antiasthma tablets packet                                           1
Antacid tablets packet                                                 1
Medications for external use
Methylated spirit bottle                                              1
Tincture of iodine bottle                                             1
Tincture of benzoin bottle                                          1
Lignocaine 2% tube                                                    1                
Eye drops bottle                                                          1