Borage: Borago officinalis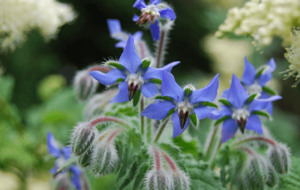 Part Used: The herb
Pectoral, cordial, aperients
Expels poisons. Rich in potassium and calcium. Comforts the heart when saddened with much grief. All the glandular system is gradually influenced by the singular action of Borage. Used to defend the heart in contagious or eruptive fevers. Seeds and leaves are said to increase mother's milk. Good to bathe sore eyes. Valuable in hepatitis.
Burdock: Arctium lappa,  Lappa minor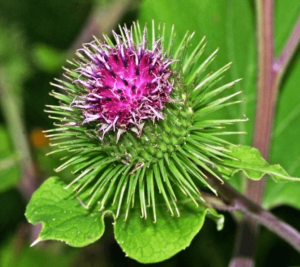 Part used: Root
Diuretic, depilatory, alterative
One of the best blood purifiers. Cleanses and eliminates impurities form the blood very rapidly. Will clear all skin diseases, boils and   carbuncles. Made into a salve for skin eruptions, burns, wounds and hemorrhoids. Increases flow of urine. An especially good diuretic for children. Also good for sciatica, leprosy. Excellent to reduce weight. Place green root, mashed fine, in water, stir well, let stand a half day. Drink   freely. Dried root also use. Use only one- year- old roots. Dig in spring of autumn. Burdock- leaf poultice allays inflammation and pain. Bruise leaves for bruises and sprains give immediate relief.