अमलतास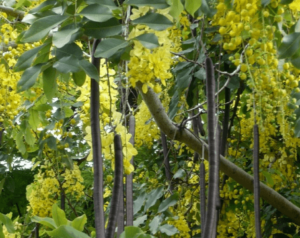 अमलतास का वृक्ष बहुत बड़ा होता है । इसके पत्ते लाल चंदन के पतों की भांति होते है । इस पर पीले रंग के फुल खिलते हैं । जिनसे एक डेढ़ फुट तक गोल फल तैयार होते है । उन फलों के अंदर से काले रंग का गुदा निकलता है ।
अमलतास पूर्ण रूप से मानव जाति के स्वास्थ्य के लिए लाभदायक है । वृक्ष से लेकर फल तक सब-के-सब ही किसी-न-किसी रोग के लिए उपयोगी माने जाते हैं । जैसा कि –
अमलतास की तासीर ठंडी होती है । यह बुखार, हृदय रोग, रक्तपित्त और शूल को नष्ट करता है ।
खांसी के रोगियों के लिए – अमलतास के पत्तों को उबालकर उनका रस एक चम्मच शहद के साथ मिलाकर पीसे से खांसी रोग दूर हो जाता है ।
गले के रोग के लिए – अमलतास की जड़ को दूध में उबालकर उसे छानकर पीने से गले के सब प्रकार के रोग दूर हो जाते हैं तथा इस के साथ गले का स्वर भी साफ और सुरीला हो जाता है ।
Cassia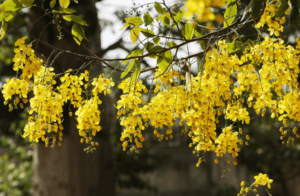 Cassia tree is large. Its leaves are like the addresses of red sandalwood. The full bloom of yellow. A half foot long round fruit is ready. Inside those fruits of black anal discharges.
Cassia is beneficial to the health of mankind as a whole. All-in-all the fruit from the tree that are known to be useful for disease or another. The –
Cassia impression is  cool. Fever, heart disease, destroys blood clots and colic.
For patients with cough – cassia leaves boiled juice mixed with a teaspoon of honey cures cough is ground.
Throat disease – Cassia root boiled in milk by taking her throat go away all sickness and with the tone of the throat is clear and melodious.