पपीता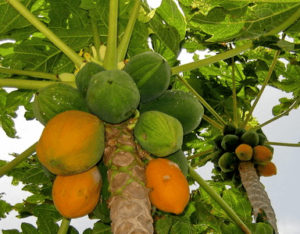 पपीते का वृक्ष बहुत लंबा होता है और उसके पत्ते काफी चौड़े, फल बड़े-बड़े होते हैं जैसा आप चित्र में देख रहें हैं ।
इसके पेड़ हर जगह लग जाते हैं | कभी-कभी तो यह स्वयं ही प्राकृतिक रूप से उग आते हैं | कुछ स्थानों पर इसके बाग भी लगाए जाते हैं |
अर्थ
कच्चा पपीता मल को रोकने वाला, खांसी को दूर भगाने वाला होता है | पका पपीता स्वाद में मधुर, रूचि के लिए सुभ देर में हजम होता है |
बवासीर के लिए
बवासीर रोगियों के कच्चे पपीते का रस मस्सों पर एक मॉस तक निरंतर लगाने से मस्से जलकर गिर जाते हैं | जिगर की खराबी वालों को पपीता खूब खाना चाहिए | आम लोग जो अपने स्वस्थ की रक्षा करना चाहते हैं उन्हें दोनों समय पका हुआ पपीता खाना चाहिए | पपीता खाने वालों को कभी पेट रोग नहीं लगता |
Papaya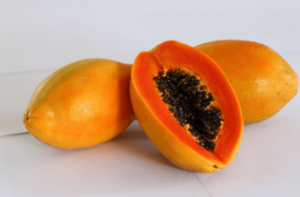 Papaya tree is very tall and very wide leaves, fruits are great as you see in the picture.
The tree takes everywhere. Sometimes it grows naturally on its own. The groves are planted in some places.
Meaning
Papaya prevents stool, cough is going to blow away. Ripe papaya sweet in taste, it is well to digest while in Sub.
Patients piles of raw papaya juice charred moles warts by applying a constant fall to Moss. People must eat plenty papaya liver malfunction. Ordinary people who want to protect their health should eat them both time ripe papaya.  Papaya eaters stomach disease do not ever.