Mulberry

The mulberry tree is very big and powerful spread . The fruit is very sweet and tasty . Addresses the tree, the fruit of all the work to get wooden .
Heat stroke patient quickly mulberry juice Feed . If the addresses do not receive prompt juice Mix sugar candy juice drink one hour after the patient is reduced Impact of Lu . In the summer, or they may eat mulberry juice every day may not respond to heat by drinking .
Joint pain of arthritis patients are distressed . There are many of them lost money by eating medicines are Grieving . It is important for people who eat 100 grams a day mulberry mulberry mulberry juice drink, they do not eat or drink four Dinmen mulberry sorbet .
Mulberry is very beneficial for asthmatics Drug . Patients who drink more than mulberry . This mucus builds exits .
Mouth ulcers
For those who tend to get blisters in the mouth and drink water if they eat Vechare sad are . Them four or five times a day to drink mulberry sorbet .
 

शहतूत
शहतूत का वृक्ष बहुत बड़ा तथा फैला हुआ शक्तिशाली होता है | इसका फल बहुत मीठा और स्वादिष्ट होता है | इस वृक्ष के पते, फल लकड़ी सब से सब काम आते हैं |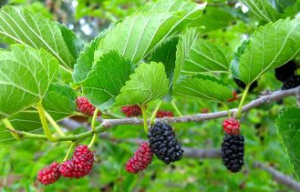 लू लगने पर रोगी को झट से शहतूत का रस पिलाएं | यदि शीघ्र रस प्राप्त न हो तो पतों का रस निकालकर उसमें मिश्री मिलाकर एक-एक घंटे के पश्चात् रोगी को पिलाने से लू का परभाव कम हो जाता है | गर्मी के मौसम में हर रोज शहतूत खाते रहें अथवा उनका रस निकालकर पीने से गर्मी का असर नहीं होता | 
गठिया 
गठिया के रोगी जोड़ों के दर्द से बहुत दुःखी रहते हैं | इनमें से बहुत-से ऐसे भी हैं जो दवाएं खा-खाकर धन नष्ट करके भी दुःखी रहते हैं | इसके लिए 100 ग्राम शहतूत हर रोज खाना जरुरी है जो लोग शहतूत नहीं खा सकते वे शहतूत का रस निकालकर पी लें या फिर शहतूत का शर्बत दिनमें चार चार सेवन करें | 
दमा 
दमा रोगियों के लिए शहतूत बहुत लाभकारी औषधि है | ऐसे रोगी अधिक से अधिक शहतूत सेवन करें | इससे अंदर जमा बलगम बाहर निकल जाता है |
मुंह के छाले
जिन लोगों के मुंह में छाले हो जाते हैं वे वेचारे खाना तो क्या पानी पीने से दु:खी होते हैं | उन्हें दिन में चार-पांच बार शहतूत का शर्बत पीना चाहिए |