Oleander (Kaner)
Oleander plant, is quite spread. There are two types of Flower. So with a Flower white, white oleander, which we recall the name of the second, with  red  Flower oleander, which mostly comes into view.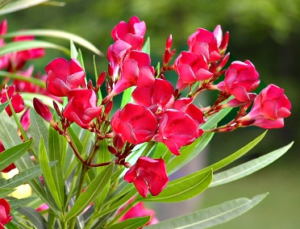 Those who have bad blood, or are suffering from skin diseases, the root of the oleander boil 100 grams of 4 kg Dus stay. Freezing the milk to make the cheese, then create butter ghee prepared. Feed the patient and placing it in the pan and rub her all over the body. If you massage the wound tie her up out of the pan. A few days of treatment will cure all.
Avoid: Avoid things sour and fried in oil.
कनेर
कनेर का पौधा, काफी फैला रहता है | इसमें दो प्रकार के फुल आते हैं | एक तो सफ़ेद रंग के फुल वाला, जिसे हम सफ़ेद कनेर के नाम से याद करते हैं, दूसरा लाल फुल वाला कनेर, जो अधिकतर देखने में आता है |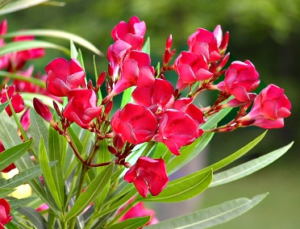 जिन लोगों का खून खराब हो, अथवा चर्म रोगों से पीड़ित हों, उनके लिए कनेर की जड़ 100 ग्राम लेकर 4 किलो दुश में उबाल के लें | उस दूध को जमाकर उसका दही बना लें फिर उसे बिलोकर मक्खन तैयार कर के घी बनाएं | उसे पान में रखकर रोगी को खिलाएं तथा सारे शरीर पर उसकी मालिश करें | यदि जख्म हों तो मालिश करके उसके ऊपर पान का पता बांध दें | कुछ दिनों के उपचार से ही सब रोग ठीक हो जाएंगे |
परहेज : खट्टी तथा तेल में तली चीजों को न खाएं |